Batteries are everywhere in our everyday life. Portable systems have been used successfully for decades as Li-Ion cells. For several years, this technology has also been used for the application of traction batteries / accumulators, which experience a significant increase in energy content and also in the total capacity compared to the previous orders of magnitude.
For qualification, batteries are also evaluated according to the electrical properties, so-called parameter tests (capacity, maximum charging and discharging current), as well as according to the environmental conditions (temperature influences, charging and discharging behavior under temperature as well as vibration and shock).
Unlike other tests, battery testing must meet very high safety standards because batteries can explode and burn off in a so-called thermal runaway event.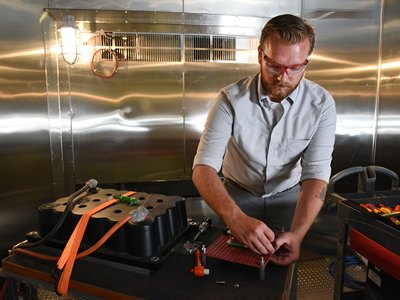 Battery tests
Standards
DIN EN 62133-2
IEC 62660-1/ -2
ISO 6469-1
ISO 12405-4
ISO 19453-6
UN 38.3
Battery tests for Pedelecs
Standards
DIN EN 15194
DIN EN 50604-1
DIN EN 62133-2 (VDE 0510-82)
DIN SPEC 79009