Solar simulation is used to determine the aging behavior (lightfastness) of plastics, metals, complex components, coatings, paints and other materials under different irradiance levels, radiation compositions and weather conditions, at different locations.
Our sun is not only the most important source of energy for us humans but also a decisive factor in the quality assessment of components and products in terms of lightfastness.
Almost all products are exposed to the sun's rays during their lifetime and have to withstand them. Artificial light in department stores, for example, also has an effect on a product and can change its appearance over time.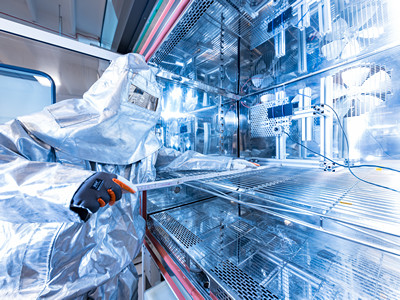 Solar Simulation Test
Standards
ASTM C1442
ASTM D2565 Cycle 1
ASTM D3424 Method 4
ASTM D4329
ASTM D4587
ASTM D4798 Cycle A-1 and B
ASTM D4799
ASTM D5071 Cycle 1 and 2
ASTM D5208
ASTM D6662
ASTM G151
ASTM G154
ASTM G155 Cycle 1
DIN 75220
DIN EN 927-6
DIN EN 1297
DIN EN 12224
DIN EN 13523-10
DIN EN 60068-2-2
DIN EN 60068-2-5
DIN EN ISO 105-B06
DIN EN ISO 4892-1
DIN EN ISO 4892-3
DIN EN ISO 11997-2
DIN EN ISO 16474-1
DIN EN ISO 16474-3
DIN ISO 9022-9
GB/T 16422.2 Cycle 10 and 12
GB/T 2424.14 Cycle A, B and C
GB/T 8013.1 Xenon Test
IEC 60068-2-5 Procedure A
ISO 16474-2 Cycle B4
JDQ 53.3
MIL-STD-810G 505.5 Procedure I und II
MIL-STD-810G 505.6
MIL-STD-810H 505.7
prEN 1062-4
SAE J2020
TSM0501G
TSM0502G
YY/T 0631 Xenon Test
Explanation of the solar simulation
An important area for solar simulation is the automotive industry. Cars and trucks are sometimes exposed to intense sunlight over their entire service life. The effects are sometimes serious and affect both exterior and interior vehicle components. Paint bleaches out, dashboards discolor and can crack.
Two different influencing factors come into play here:

UV portion of the light
Thermal part of the light
While UV light ages plastics even at low temperatures, thermal exposure accelerates the aging process due to the influence of temperature. UV light in combination with water leads once again to accelerated aging, which is why this is also referred to as weathering testing.
The generation of the light is made with different emitters:

Xenon spotlight, which have a spectrum very similar to sunlight, but with a high infrared component
Metal halide emitter, which have a similar spectrum to xenon arc lamps but without the high infrared component
UV tubes, which are used as UVA, UVB, or UVC lamps and only allow the UV portion of the light to act on the test specimen.
Sun simulation, weathering, UV tests
These tests are intended to investigate the effects of weather-related factors such as sunlight, temperature, humidity/water, etc. on materials and surfaces. A fundamental distinction must be made between natural weathering (outdoor weathering) and artificial weathering (laboratory weathering). Both are carried out by TechnoLab.
For outdoor weathering, the objects to be tested are exposed to local environmental conditions at specific locations with special climatic peculiarities under measurement observation. This procedure requires a considerable amount of time, especially since meteorological imponderables can influence the course of the test.
In contrast, laboratory weathering has clear advantages. The influencing factors (irradiance, temperature, humidity, etc.) can be kept constant over the entire observation period. Thus, results can be obtained in a relatively short time, allowing reliable statements to be made about "weather fastness", "weathering stability" and "light fastness".
Light fastness / UV resistance
The influence of ultraviolet radiation (UV radiation), especially short-wave radiation, on certain materials can hardly be overestimated; their optical and mechanical properties can change significantly. Organic materials and plastics in particular undergo sometimes significant aging processes (yellowing, discoloration, embrittlement, decay) under UV light in the sun's rays. Deterioration of natural and synthetic elastomers and polymers due to photochemical reactions.
The infrared portion of the radiation can also have significant consequences such as: Jamming or detachment of moving parts, weakening of solder joints, loss of calibration, premature actuation of electrical contacts, fading of colors of color-coded components, changes in the properties of elastomers and polymers, blistering and peeling of paints and other surfaces, softening of potting compounds, and many others.
Components made of plastics such as acrylic glass, PVC, polyethylene and EPDM are tested in the laboratories, with both mechanical (hardness, elasticity and strength) and optical properties (turbidity, discoloration, gloss) being examined. The UV simulation facilities cover a wide range of radiation intensity combined with different climatic stresses.
Among other things, the following is used to perform these tests:
Xenon arc weathering
The radiation characteristics of xenon arc lamps are adjusted by using suitable filters. According to DIN EN ISO 4892-2, a distinction is made between procedure A for testing with filters for global radiation (artificial weathering) and procedure B for testing with filters for global radiation behind window glass.
UV weathering
For the realization of artificial weathering or irradiation carried out with UV fluorescent lamps, different lamps are used according to DIN EN ISO 4892-3, which have different radiation characteristics. Procedure A describes weathering with UVA-340 lamps (type 1A) and procedure B describes global radiation behind window glass with UVA-351 lamps (type 1B). With both lamps, a very good match with the radiation characteristics of sunlight is achieved. The UVB-313 lamps, on the other hand, also emit in the mid and far UV range and thus below the solar cut-off wavelength of 295 nm. These lamps are used in particular for aviation and aerospace investigations.