Sand and dust tests (Blowing Dust / Sand tests) are carried out to assess the effect of dust or sand on various objects. This can cause a whole range of different failure symptoms, including:
The classic tests can be IP protection type tests IP5x and IP6x, which examines the penetration of dust into enclosures.

In sand tests, it is rather the abrasive influences that are investigated. For example, a desert storm or the movement of a vehicle, e.g. a high-speed train in the desert. At wind speeds of up to 100km/h, effects such as the removal of writings on labels, dulling of glass surfaces or the mechanical failure of moving components occur here. Sands are preferably used with grain sizes from 150µm to 850µm.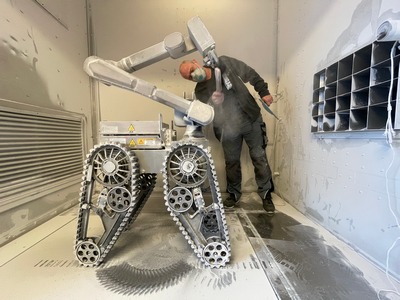 Blowing Sand/Dust Test
Standards
DIN EN 60068-2-68
DIN 40050 Part 9
DIN SPEC 79009
IP Protectio Class 5X and 6X
IEC 529 Table VII Fig. 2
IEC 34-5 Fig. 2
IEC 144
DIN EN 60529
VDE 0470 Part 1
DIN 40046 Part 46, 47, 48 Test La, Lb, Lc
DIN 40052
MIL-STD-810G
RTCA DO-160
AECTP 300-3
MIL-STD-202D
MIL-E-5272
MIL-C-9436
MIL-STD-331
DEF STAN 00-35 Issue 4 Part 3
Explanation of the sand/dust test
Sand/dust testing can cause a whole range of different failure modes, including:
Penetration of enclosures or capsules
Change of electrical properties (faulty contacting; change of contact resistance; change of creepage resistance).
Seizure or restriction of movement of mechanical parts (bearings, axles, shafts, etc.)
Wear of the surface (abrasion)
Contamination of optical surfaces
Contamination of lubricants
Clogging of vents, reducers, pipes, filters, openings
Dust tests for the aviation sector are carried out together with an air flow to force the penetration of dust into products. For military equipment, the air speed is up to 9m/s (32km/h). The dust usually consists of talc, silica sand, feldspar and other minerals. Arizona dust, for example, is a combination of several components, China Clay is also sometimes used. The grain sizes are smaller than 150 µm.
Special tests can also be carried out with magnetic dusts or dusts containing fibers. This allows simulations of dusts in tunnels or in mining (coal dust) to be simulated.
Sands with grain sizes from 150µm to 850µm are preferred.